Links and Resources

The Lutheran Church–Missouri Synod (LCMS) is a traditional, confessional Lutheran denomination in the United States. With 2.3 million members, it is also the largest confessional Lutheran denomination in the world. The Synod was founded at Chicago, Illinois, in 1847 by German-American immigrants. The LCMS is headquartered in Kirkwood, Missouri.
---
Issues Etc. is a radio talk show hosted by LCMS Pastor Todd Wilken and produced by Lutheran Public Radio in Collinsville, IL. You can tune in LIVE weekdays from 3-5 p.m. On KFUO, 850 AM in St. Louis. You can also listen to what you want 24 hours a day at www.issuesetc.org
Trinity Church is a proud member of the Issues Etc 300 Club for its financial and prayerful support.
---
The Brothers of John the Steadfastbrings together Lutheran laymen to defend and promote the orthodox Christian faith which is taught in the Lutheran Confessions, provide financial support for Christian new media (e.g. Issues, Etc.), and to support other endeavors selected by its membership that defend and promote the cause of confessional Lutheranism.
---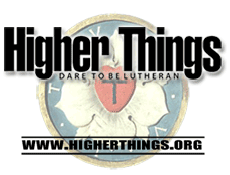 The mission of Higher Things is to assist parents, congregations, and pastors in cultivating, encouraging and promoting a distinctively Lutheran identity among their youth and young adults.
---
Thrivent Financial for Lutherans, a faith-based, not-for-profit membership organization nearly 2.5 million members strong. We're a Fortune 500 financial services organization with the strength of more than $75 billion in assets under management. For more than a century, our blend of financial expertise, shared values and service to members has set us apart. As the nation's largest fraternal benefit society we're here solely to help others.
---